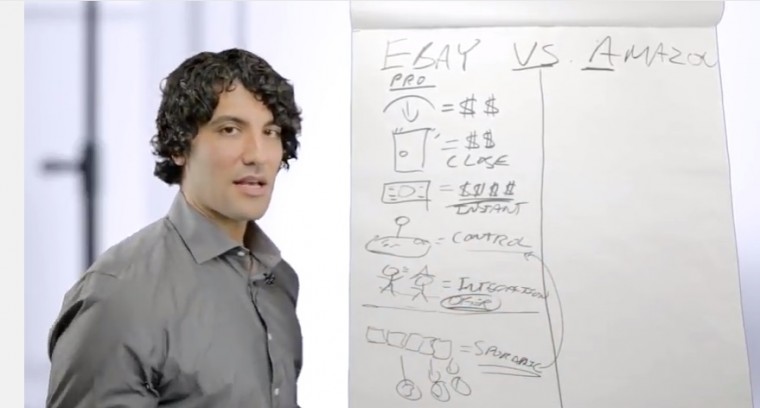 Ebay vs Amazon Selling
Hey there everybody it's David Scarpitta.
Welcome back to another Get Found Fact.
We are going to answer the question alot of people have which is Ebay vs Amazon Selling.
Let's start with the details of both Both Ebay and Amazon:
Here's the Pros on Both the Ebay vs Amazon Selling Space:
Ebay Pros:
– Lower Overall Fees to Start.
Much of the time, Ebay will give you many free listings just to start. You get to sample test where you are going to be in your ebay business. We're talking as many as 500 free listings (from what I have seen recently), to be able to kickstart your online business. And future listings are just some pocket change in the event you start to scale or you go through all of your free listings already.
– Lower Closing Sales Fees
Finalizing a sale, you will literally take home more raw funds than the big A. Depending on your item or items you are selling, this is an important structure to take into consideration for overall profitability.
– Faster Payment Methods
Almost instant payment via Paypal (Granted Your Account is Not Under Risk Control). Instant cash for your transaction so that you have cash flow for shipping and restocking products. Ebay owns Paypal and has a direct working relationship, so you'l get paid fairly fast as compared to other platforms where you may have to wait up to 15 business days. Which obviously can hurt cash flow in some businesses.
– Ebay Offers More Control Over Your Product Listings
You make independent listings for all of your products. You have a substantial amount of control for your products that you are selling. This also enables you to "SEO Your Ebay Listing", however we will talk more about this in another article.
– Ebay Offers More (And Encourages) More Customer Interactions
This can be a double edged sword and can be a positive or a negative. From a positive side, since Ebay has "several type of product listings". For example "Auction Listing", "Buy it Now", and even a "Best Offer" type of product listing. Now depending on what type of product you have, as well as marketplace and the liquidity you need for the product.
Basically it comes down to whether or not you want interaction. This interaction can enhance the ability to close the sale on larger ticket items, or things that "aren't priced to move". This instills the trust factor for a larger priced item.
However interaction can move in the opposite direction as well, where this opens communication for "ignored content" because the potential customer did not receive the description of the product well, or just ignored it completely, and winds up asking multiple mundane questions wasting lots of time for you and not resulting in the sale.
– Competition is Sporadic
Many of the other businesses potentially selling the same product are sporadic. These potential competitors may not be listed on the same search page and they are not usually grouped together. Therefore their overall listing may not be seen, and therefore gives you a leg up in potentially crowded space. Especially given the fact you have more control over the product listing and it's independent customizations.
Pros of Selling Amazon on Amazon:
– Conversion on Amazon is Higher
One of the core reasons that Amazon conversion rate is higher is because of it's traffic. It's a known fact that if you have much more traffic, there is a chance for more web traffic converting to sales. Overall Amazon has some of the highest conversion rates on the internet and in e-commerce. We talk more about this in other lessons regarding increasing website conversion.
– The A to Z Guarantee Is Trusted
The A to Z guarantee gives the purchaser or customer, the unfettered ability to complain about absolutely anything. The A to Z guarantee instills a "buyer trust" like no other. From a buyer's perspective, the trust factor stomps out most other retailers. With this in mind, this order performance guarantee takes the large traffic and brand of Amazon and further increases the conversion of the potential product being sold.
– Better Organization of Products on The Amazon Site
Amazon has an insanely large selection of products from both themselves, and 3rd party sellers. With such a large breadth of products and services, Amazon takes a strong organizational approach of presenting similar products in a less confusing fashion. They take a handful of listings of similar products, and present almost every seller in a "product and seller comparison page" where everything is neatly kept into focus to find the most competitive price for the same product literally browseable in seconds. Amazon forces continued organization of all sellers on the marketplace.
– Amazon Makes Transactions and Purchasing Extremely Easy
To enhance the continued growth of Amazon sales, and enhance their conversion the Amazon checkout process for both buying and selling. From a seller's perspective, there is FBA, product Questions & Answers, and product reviews and details that surpass most independent retail ecommerce websites.
When it comes to the "buyer experience", Amazon makes it so painless to both purchase, re-order, and track everything in one-click via both directly through the website, and then even the super easy mobile app for both iOS and Android.
Now for every Pro, there is obviously a Con. So let's take a look at some of the cons.
Continuing on with, Ebay vs Amazon Selling Pros and Cons.
Cons of Selling on Ebay
– Ebay has lower overall conversion
Ebay visitors do alot of tire-kicking, browsing and question asking. The perception of Ebay is that it's the "garage sale of the internet". Great for impulse items that are hard to find, and very rare items to the "highest bidder". People understand that the "A to Z Protection plan" isn't in place for Ebay, and the trust factor pushes down the conversion.
– Ebay Listings Expire, and You Have to Relist
No matter the type of product you are listing, you have to "relist" the item from time to time. Even if you decide to have a "long term listing", much of the time there will always be some manual function to have "renew" your Ebay listing no matter the type of Auction, Buy it Now or "Best Offer", you'll be relisting eventually. We talk about a way to automate relisting Ebay listings in other posts.
– Ebay Equals Potentially More Customer Interaction Required
As i mentioned earlier, customer interaction on Ebay can actually be something that helps you garner a better profit for your products, however this "easy to ask questions directly" to the seller is sometimes a total time waster. Since many potential Ebay customers are always looking for an extreme deal, sometimes they may waste alot of time by not reading the listing where you answer all the product questions, or consistently ask for more pictures, details, and even a price negotiation with no real intention of closing the deal or making the purchase.
– Getting Paid on Ebay is Subject to Having to Use Paypal
Being able to get paid fairly instantly really does help when it comes to cash flow for your business substantially, however you're locked to using Paypal. If you don't like Paypal, or you've had "Paypal Issues or Paypal Disputes", you are going to be held back sometimes indefinitely and really fighting to try to get your money. Again, every platform unless you are on your own ecommerce site, then you are at the will of the 3rd party network payment processing protocols.
Now, let's take a look at some Cons or Negatives when selling on Amazon
Cons when Selling on Amazon:
– Amazon Fees. Amazon Seller Fees Can Be Extremely High At Times
Amazon is a conversion and selling powerhouse. They know this, and are raking in millions of dollars in fees to sell on their platform. From extended FBA fees, to shipping fees and product categorization final sale fees on average from 15-18% of the total purchase price of your item. This can leave you with some real scraps and may ultimately affect your operations and bottom line.
– The Amazon "A to Z Guarantee" May Actually Work Against You
Amazon has enabled extreme higher conversion, and easy of use to sell your products, however you are truly bound by their rules. That means that just about anything that a customer you send a product to can potentially complain about, will enable them to ask for a refund. An exceptionally entitled audience, and ultimately some sellers see the "Z in the A-to-Z Guarantee" as a big fat Zero for those that have had any issues in regards to those transactions that fall under this policy.
– Amazon has a Standard 14 Day Payment Hold on All Sales
As if Amazon didn't have billions to play with regarding stocks and their publicly traded shares, but they also hold 90% of all payments for goods in a 2 business week release. So that means if you don't have your eggs lined up, you are going to be short on cash until they deposit into your bank account. So if you need immediate liquidity, you are going to want to look to selling on Ebay at first to pump up some cash flow, to deal with these issues.
There are some that have gotten the ability for a pushed up payment release, though there is a process involved in this and you can join our powerhouse selling program to get the insights you need to get to that level.
– Amazon Has Overall Higher Competition for Similar Products
Amazon's ultimate organization of products pits "seller against seller" on the same exact product. Much of the time some listings have 20+ sellers selling the exact same item. And to make matters worse, the standard seller mentality is to "beat out the price" of the next guy. And this style business practice can lead to profits of like 5%. (REMEMBER: More Sales Doesn't Always = More Profit. See my Post on is it worth it to sell on Amazon?)
So that's it entrepreneurs. This is just one way to make money online. So now you know the real Pros and Cons when it comes to Ebay vs Amazon. You can learn more intermediate and advanced techniques on how to win at the 3rd party marketplace game, so please take moment to signup for more information on getting your business online, no matter what it is.
in Online Marketing, Selling My Product Online
Tags: amazon selling, amazon seo, ebay selling, ebay seo